General Information
Semester Hours
CAPS is open for in-person and virtual services Monday–Friday, 8 a.m.–5 p.m.
Keep in mind that in most circumstances, CAPS is able to offer only limited services (e.g., screening, consultation, referral coordination, transfer of care) for students residing outside of Michigan. Provider licenses only allow us to practice within the state.
---
Getting Started at CAPS
Accessing CAPS: If you do not have a scheduled telemental health appointment, or are not already established with CAPS, you can get stated with CAPS by scheduling an initial consultation here. During your first appointment, we'll discuss your needs and help you get connected with available resources.
Established psychiatry patients can contact their provider through the MyMSUHealth patient portal (patients concerned about potential cost should mention this to their provider).
Patients needing a prescription refill prior to their next appointment can use the MyMSUHealth patient portal to make the request.
In most circumstances, CAPS is able to offer only limited services (e.g., screening, consultation, referral coordination, transfer of care) for students residing outside of Michigan. Provider licenses only allow us to practice within the state.
About Us
CAPS is the place on campus for students seeking help for a wide range of concerns, including depression, anxiety, stress management, homesickness, adjustment or acculturation, relationships, issues around race, gender and sexual orientation (LBGTQ), substance abuse, traumatic experiences, eating or body image concerns, and other personal mental health concerns. CAPS combines the clinical services of counseling and psychiatry in one setting.
We are committed to putting students first.
Our commitment to diversity means creating a welcoming, safe, inclusive, equitable, and affirming environment for each student. We believe diversity enriches learning, enhances personal growth, and takes into account all aspects of a student's identity, such as age, body size/shape, disability/ability, socioeconomic status, political affiliation, nationality, race, ethnicity, culture, religion/spirituality, language, sex, gender identity, gender expression, sexual/romantic orientation, values and beliefs.
Our Primary Location:
Most CAPS services are located at Olin Health Center:
Counseling & Psychiatric Services
Olin Health Center, 3rd Floor
463 East Circle Dr.
East Lansing, MI 48824
Phone: (517) 355-8270
The secondary location at the MSU Student Union building is for scheduled appointments only, however, closed at this time to promote the health and safety for students and staff.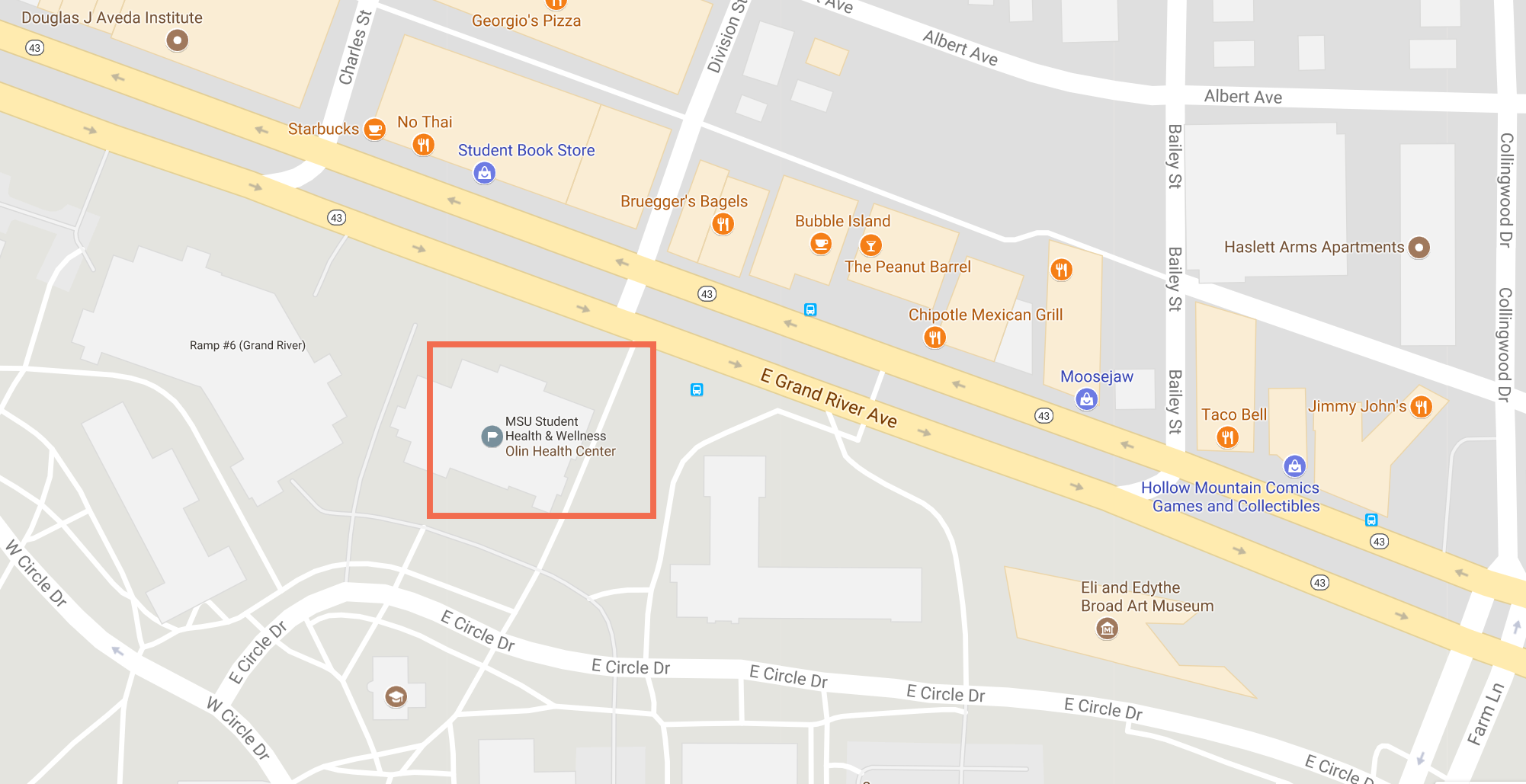 Counseling and psychiatry services are provided by staff from a wide range of professions, including care managers, social workers, licensed professional counselors, marriage and family therapists, psychologists, psychiatrists, psychiatric nurses, doctoral interns, and masters' intern and practicum level graduate staff.
CAPS has a diverse staff engaged in multicultural and collaborative approaches to provide quality care with a wide range of clinical expertise and lived experiences. Visit the CAPS Staff Directory to learn more about us.
Confidentiality of Services
Client confidentiality is and will continue to remain a top priority. CAPS upholds the best professional practices in protecting student confidentiality and privacy with policies that are in accordance with the various ethical and professional principles and standards set forth by organizations and bodies which oversee our multidisciplinary practices.
Identifiable health information from confidential counseling or psychiatric records will not be shared outside of the MSU Health Team and is released only if the client gives written consent. By law, there are limited exceptions to this rule in cases of minors, health or safety emergencies and court subpoenas. Faculty, university administrators, and parents do not have access to a client's counseling or psychiatric record. However, counselors and other medical providers are mandated to report specific information when there is the possibility of harm to a client or another person, in cases of abuse of a child, elder or disabled person, or under court order. Patients receive more information about the CAPS confidentiality policy at their first visit.
For additional details about what information can be released, contact the Olin Medical Records department at (517) 353-9153 or email your question to olin@msu.edu.
A copy of our Notice of Privacy Practices can be found online at http://olin.msu.edu/pdfs/NPrivacyP-Revision12_1_2016.pdf.
Outreach Requests
MSU Counseling and Psychiatric Services offers outreach services for the MSU community focusing on awareness, education, prevention, and early intervention regarding Mental Health concerns. Some common outreach topics include:
CAPS information – Overview of services
Stress Management
Suicide Awareness & Prevention
Supporting Students in Distress
plus, a wide variety of other concerns.
Learn more about Outreach or submit a Virtual Outreach Request. 
Contact Us
In case of an emergency call 9-1-1 or go to the nearest emergency room, if it is safe to do so.
 
CAPS Appointments & Cancellations: (517) 355-8270
Press "1" at the prompt to speak with a crisis counselor (CAPS is providing remote crisis services 24/7/365)
Other prompt options are available for those not in crisis.
CAPS Fax line:
(517) 353-5582
Additionally, you can contact CAPS through our Online Contact Form to ask general questions or provide feedback about services.