Referrals
Our mission is to connect students with the most appropriate and available care and services that optimize their health, well-being and success. After a student completes a consultation with CAPS, we may recommend other trusted on- or off-campus services that we believe could benefit them most.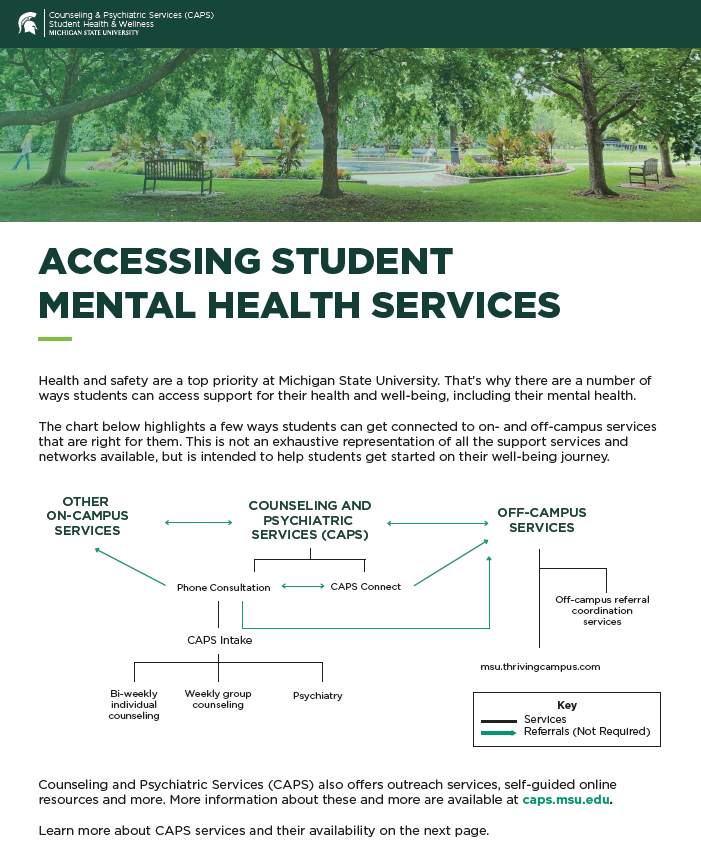 There are all kinds of ways to get connect to services that support your mental health, whether that's through CAPS, another on-campus department or an off-campus provider.
Click the image or button below to learn more about connecting with services and our availability.
---
Our Off-Campus Partners
ThrivingCampus
An online platform that makes it easier for you to connect with off-campus mental health care and well-being services. Anyone can access ThrivingCampus any time. Learn More
UWill
UWill offers short-term virtual counseling or messaging capabilities for students who may benefit from teletherapy. A CAPS referral is required to access UWill services. Learn More
---
Referral Coordination Services
CAPS referral coordination services can help you connect with off-campus therapeutic or psychiatric care in your area.
To schedule an appointment, please contact MSU CAPS at (517) 355-8270 and ask to be connected with a referral specialist. You can schedule an appointment to meet in person for referral coordination, or request contact via phone or email. The referral specialist is also open for drop-in appointments through CAPS same-day screening services, outlined here. 
This service is available to any enrolled MSU student registered for one or more credits, including students who study or live outside of the East Lansing area and students who have not previously received services through CAPS. It's also available to the spouse or partners of MSU students.
Referral assistance can:
Help you identify available community practitioners in your area
Find community providers whose clinical backgrounds and specializations match with your personal and therapeutic goals
Help you find an in-network provider who works with your insurance policy
Explain and assist in the transfer of care between institutions.
Lansing-Area Group Practices
In addition to the providers on ThrivingCampus, the following Lansing-area group practices may be a good option for those seeking mental health support who are unsure which specialty would be best for them. Group practices can also be advantageous for accessing support through the next available provider when individual providers are unable to accept new clients. 
Click + below to expand the list of area practices.
Group Practices

Community Providers-Therapy Group Practices (PDF Format)


CAPS does not endorse any of the following providers or their services.

Comprehensive Psychological Services
2720 East Lansing Drive
East Lansing, MI 48823
(517) 337-2900
Website: comprehensivepsychologicalservices.net

Counseling and Wellness Institute
2149 Jolly Road, Suite 500
Okemos, MI 48864
(517) 337-2900
Website: wellnessinstitutemi.com

Delta-Waverly Psychology and Counseling Associates
5123 West St Joseph Highway, Suite 103
Lansing, MI 48917
(517) 323-4099 
Website: deltawaverly.com

Diversity Psychological Services
601 Abbot Road, Suite 103
East Lansing, MI 48823
(517) 574-4197
Website: diversitypsychologicalservices.com

Early-Treatment and Cognitive Health (ETCH)
4572 S. Hagadorn Road
East Lansing, MI 48823
(517) 481-4800
Website: etchwellness.org

GPS Guide to Personal Solutions
1801 E Saginaw St. Suite 1
Lansing, MI 48912
(517) 599-1247
Website: guidetopersonalsolutions.com/

Lansing Institute of Behavioral Medicine
3475 Belle Chase Way
Lansing, MI 48911
(517) 882-3732 
Website: liobm.com

Lansing Psychological Associates
234 Michigan Avenue
East Lansing, MI 48823
(517) 337-6545 (new patients dial extension 107)
Website: lansingpsych.net

Okemos Center for Therapy
2193 Association Drive
Lansing, MI 48864
(517) 349-2661
Website: okemoscenterfortherapy.com

Perspectives Therapy Services
1701 Lake Lansing Road, Suite 120
Lansing, MI 48912
(810) 494-7180  
Website: perspectivestherapyservices.com

Psychiatric Associates
4084 Okemos Road
Okemos, MI 48864
(517) 347-4848
Website: psychiatricassociates.space

Psychological and Behavior Consultants
2535 East Mt. Hope Avenue
Lansing, MI 48910
(517) 732-2535
Website: pbctherapists.com

Therapy Today Counseling and Consulting
4572 South Hagadorn Road
East Lansing, MI 48823
(517) 481-2133
Website: therapytodaycc.com

Winding Path Counseling
4660 Marsh Road
Okemos, MI 48864
(989) 282-8051
Website: windingpathcounselingmi.com/

Women's Personal Growth & Therapy Center PC
4660 Marsh Road
Okemos, MI 48864
(517) 347-2126
Website: womenctr.net

Community Providers-Psychiatric Group Practices

A Better Tomorrow Counseling and Consultation Services
4129 Okemos Rd
Suite 5
Okemos/East Lansing, MI, 48864
(517) 574-5922
Website: abtccs.com

Healthy Minds Psychiatric Services
2390 Woodlake Drive, Suite 380
Okemos, MI 48864
(517) 618-0934
Website: Healthyminds.biz

Lansing Institute of Behavioral Medicine
3475 Belle Chase Way
Lansing, MI 48911
(517) 882-3732
Website: liobm.com

Lansing Psychological Associates
234 Michigan Avenue
East Lansing, MI 48823
(517) 337-6545 (new patients dial extension 107)
Website: lansingpsych.net

Meridian Professional Psychological Consultants, P.C.
5031 Park Lake Road
East Lansing, MI 48911
(517) 332-0811
Website: mhweb.org/lansing/meridian.htm

Michigan Psychiatric & Primary Care
6110 Abbot Road
East Lansing MI 48823
(517) 332-5342
Website: michiganpsychiatricandprimarycare.com

MSU Psychiatry Clinic
909 Fee Road, Room B119
East Lansing, MI 48824
(517) 353-3070
Website: healthteam.msu.edu

New Oakland Family Centers (Okemos Location)
2300 Jolly Oak Road
Okemos, MI 48864
(517) 649-2050
Website: newoakland.org

Psychiatric Associates
4084 Okemos Road
Okemos, MI 48864
(517) 347-4848
Website: psychiatricassociates.space

Sparrow Outpatient Behavioral Health Clinic
1210 W. Saginaw Street
Lansing, MI 48915
(517) 364.7700
Website: sparrow.org/behavioralhealth