Classroom Strategies
Oftentimes, students who are dealing with personal concerns and may be in distress typically show some outward signs that they are struggling. All students may experience life's "ups and down," but this may differ from significant distress experienced over a period of time suggesting a more serious problem. Think of a students level of distress represented along a continuum, with different levels. How you go about helping a student will depend on several factors: their level of distress, the nature of your relationship, the type of setting you are in and your comfort level. The following information includes what to look out for as well as strategies and suggestions on how best to assist struggling students.
---
Distressed Students may be exhibiting behaviors that threaten to harm self or others, psychosis, or becoming extremely withdrawn or depressed. These are severe mental health issues that often constitute urgent or emergent situations. More here
Disruptive Behavior is behavior that is not conducive to the teaching and learning process (either in the classroom or in other settings such as labs or advising), and that interferes with the functions and services of the University. These behaviors are typically a violation of the Student Code of Conduct. More here
High-Risk Behavior is conduct that threatens to harm self or others, psychosis, or becoming extremely withdrawn or depressed. These are severe mental health issues that often constitute urgent or emergent situations. More here
​
University Resources
Counseling and Psychiatric Services (CAPS) offers strategies for interacting with students in distress. Topics include:
How Can You Help?
What Signs Indicate that a Referral to Counseling at CAPS Might Be Helpful?
How Do I Talk With a Student About a Referral to Counseling at CAPS?
Guidelines for Interacting with the Student​
How Do I Make a Referral to Counseling Services?​
Can I Call and Make the Appointment on the Student's Behalf?
What Should I Do if the Student is in Distress and Immediate Attention is Needed?
​​Academic Advancement Network provides resources to facilitate difficult dialogues in the classroom. 
​The HUB facilitates the passion and inventiveness of students, faculty, staff, and stakeholders both inside and outside of MSU to create, identify, and accelerate new ways to collaborate, learn, research, and deliver instruction.
Inside Teaching MSU a network of grad students & postdocs, promoting teaching excellence through conversation & sharing practices across MSU and beyond.
​The Office of the University Ombudsperson provides strategies for dealing with disruptive students. 
---
Classroom Strategies Articles
The following articles provide classroom strategies for assisting students in distress. 
How to Help a Student in Mental Health Crisis by David Gooblar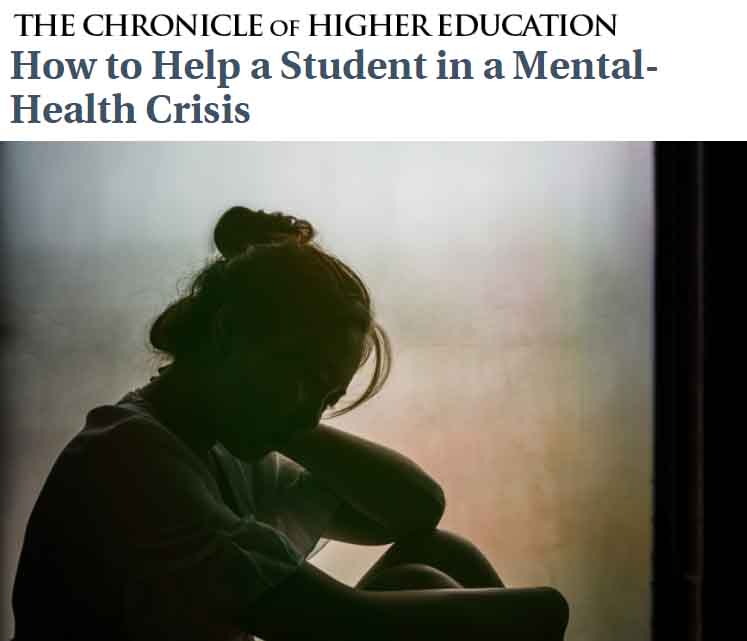 Supporting Students Facing Mental Health Challenges by Karishma Collette, Sara Armstrong, Christine Simonian Bean
---
CAPS as a Resource
At MSU Counseling & Psychiatric Services (CAPS), the main focus is providing college student mental health services, as well as regularly providing immediate advice to concerned faculty and staff. The counseling staff welcomes your calls at any time to consult with us regarding your concerns about your students. Counseling staff can offer suggestions and ideas about referral options, resources, and other ways to address your concerns.
CAPS has a diverse staff of mental health professionals providing tailored services to honor the unique needs of each student. CAPS is the place on campus for students seeking help for a wide range of concerns, including depression, anxiety, stress management, homesickness, adjustment or acculturation, relationships, gender identity and sexual orientation (LBGTQ) concerns, substance abuse, trauma, eating or body image concerns, and other personal mental health concerns. CAPS combines the services of the former MSU Counseling Center and former Olin Psychiatry Clinic to provide improved access for students. Additional services are available by referral in the Neighborhood Engagement Centers, and the MSU Union building.
Contact them at (517) 355-8270