Spring 2023 Groups
Counseling Services offers a variety of counseling, support, and educational groups each semester. Participants benefit from the mutual support and learning that occurs from interaction with others who have similar concerns. 
Unless otherwise noted, all groups will require a pre-group screening.  For more information, or to schedule your pre-group consultation, please schedule an appointment here . 
If you have questions, email the group facilitator or  caps@msu.edu .
Programs full for the current semester may be available the following semester.
CAPS is committed to providing clinical and supportive group services that are responsive to the needs of our students. If you are interested in a group that you do not see below, please email the CAPS group coordinator, Dr. Markie Silverman, at  silve162@msu.edu .
Prefer a printed copy? Download the PDF.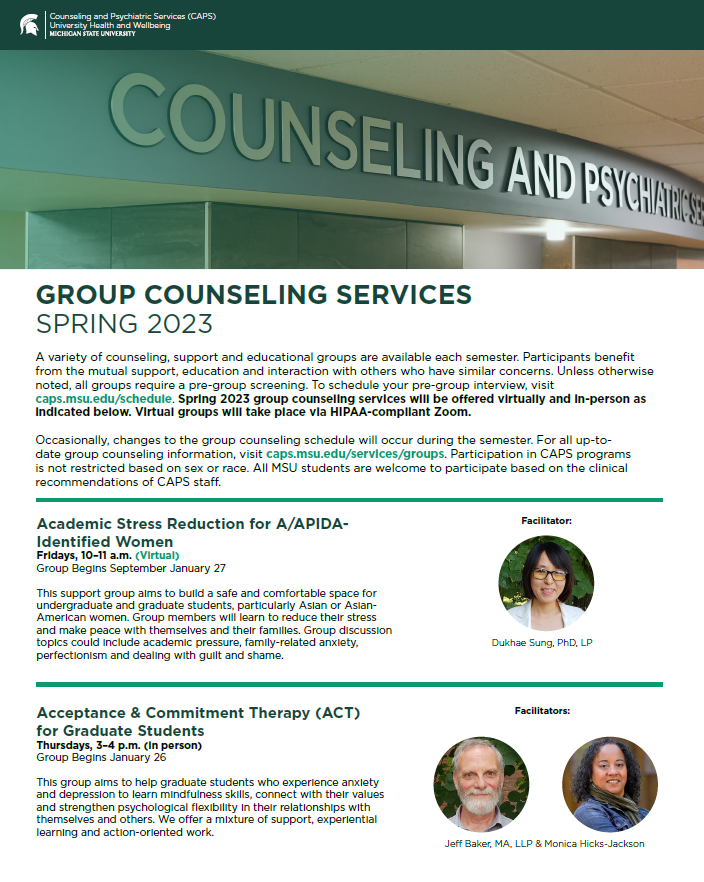 ---
CAPS Groups For Spring 2023
We're proud to offer more than two dozen groups this fall! Learn more about each of them below. 
Participation in CAPS programs is not restricted based on sex or race. All MSU students are welcome to participate based on the clinical recommendations of CAPS staff.
There are different types of group counseling, each designed to support participants in specific ways. See the group type descriptions below and click the + to expand the list of offerings under each type. 


---